How Can Aquatic Therapy Help Me Find Relief?
Gentle Rehabilitative Treatments
At Henry County Hospital, we are proud to offer aquatic therapy as one of our many options for rehabilitative services. Whether you're living with a chronic condition, recovering from a surgery, or regaining strength after an injury, aquatic therapy may be the rehab option you've been looking for.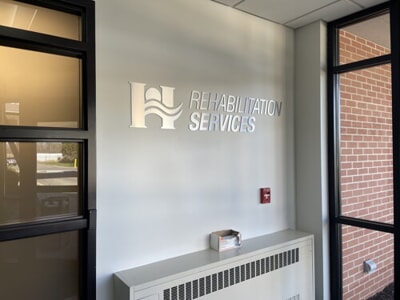 Our warm water pool allows patients to perform gentle movements in a comfortable environment while minimizing weight-bearing on the joints.
Aquatic therapy sessions are guided by a qualified and experienced therapist in a one-on-one setting. Read on to discover other ways in which aquatic therapy can help you find relief. If you believe you or a loved one could benefit from these services, don't hesitate to consult with a team member at (419) 592-4015 today.
Common Conditions Treated with Aquatic Therapy
Aquatic therapy can be a great addition to rehabilitative treatment plans for several different conditions, injuries, and post-operative care. This may include, but is not limited to: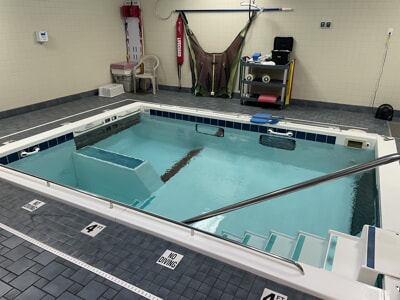 Arthritis
Chronic pain
Osteoporosis
Fibromyalgia
Multiple sclerosis
Peripheral neuropathy
Balance and gait issues
Sprains / strains
Fractures / breaks
Ligament tears
Spinal disorders
Neurological disorders
Orthopedic trauma
It is important to note that this is not a conclusive list – if you do not see your condition above, but you still think you could benefit from aquatic therapy, feel free to give us a call today!
Benefits of Aquatic Therapy
There are a variety of different healing properties found in water, and aquatic therapy utilizes these physical properties to assist patients in recovery and strength building. The buoyancy of the water helps support the weight of the body without any added pressure. For strength building, the viscosity of the water allows for a gentle resistance to exercise the muscles without weights.
The hydrostatic pressure of water also helps decrease swelling and improve joint positioning, which can improve overall proprioception (i.e., one's sense of equilibrium or balance). Aquatic therapy performed in warm water pools also aids in muscle relaxation and helps improve blood flow throughout the body.
Ready to Get Started?
Aquatic therapy can help provide relief for a multitude of different conditions. Our dedicated and knowledgeable team of therapists can guide you through targeted treatments aimed at enhancing recovery and rebuilding strength for your specific condition and medical needs. You will receive your own personalized treatment plan with aquatic stretches and exercises to promote recovery.
Contact us today at (419) 592-4015 to schedule your first appointment and discover the benefits of aquatic therapy for yourself!