Laboratory Services
Henry County Lab Services
At Henry County Hospital, our testing and integrated services are a key part of our care. Our laboratory professionals manage everything from routine diagnostic tests and screenings to providing valuable information for doctors to develop care plans for complex disease.
Your Health. Our Priority.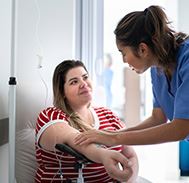 Comprehensive services. At our accredited on-site lab, we offer comprehensive diagnostic and laboratory services to help patients in Henry County manage their health.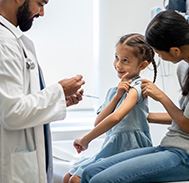 Friendly Faces. Our family-centered staff will make you feel welcome, calm nerves and answer any questions you may have.
The laboratory offers testing in the areas of:
Hematology
Chemistry
Blood bank
Microbiology
Urinalysis
Coagulation
Serology
Pathology
Pre-employment, post-accident, and DOT-certified urine drug and breath alcohol testing.
Laboratory Services Hours
Monday 7:00 a.m. - 7:00 p.m.
Tuesday 7:00 a.m. - 7:00 p.m.
Wednesday 7:00 a.m. - 7:00 p.m.
Thursday 7:00 a.m. - 7:00 p.m.
Friday 7:00 a.m. - 6:00 p.m.
Pre-employment and DOT-certified testing available Monday- Friday 9:00 a.m. - 4:30 p.m. Post-accident and random testing available 24 hours a day. We are closed on Sundays and holidays. If outpatient services are required outside the normal operating hours, please contact the hospital at 419.592.4015 and we would be happy to accommodate your needs.
Preparing for your Arrival
It's important you prepare for tests as instructed by your physician to ensure results are reliable. Be sure to follow any instructions you are given as certain behaviors may affect some tests results.
Registration must take place before blood can be drawn for testing or specimens can be processed.
Each time you visit one of our laboratories, please bring:
Physician's orders with diagnosis
Photo identification
Insurance information
Enter through Riverview Entrance and obtain a number from the Welcome Center desk. Once your number appears at a registration desk, please proceed to that specific area to complete the Registration process. A volunteer is available to escort you to Laboratory Services.
General, Primary

This is the absolute best hospital I have EVER been an inpatient at. Everyone and I do mean EVERYONE was not only above proficient at their job but there isn't a nicer bunch of employees. I admitted as a patient and discharged as a new friend to many.

Tracy A.

Rehabilitation

They do a great job.

Ernesto E.

Rehabilitation

I have always had kind and patient therapists. They were encouraging and glad when I showed progress. They are all very friendly and courteous.

Betty C.

General

"Amazing nurses and other staff."

Deb H.

General, Primary

Wonderful, compassionate staff! the care given is top-notch!

Harriet B.

General, Lab

My husband had outpatient testing. He wasn't feeling well and they were understanding, attentive, and overall very pleasant! They were the epitome of what patient care should look like! To say we were impressed is an understatement!

Donna S.

General, Primary

Henry County has been a wonderful facility. Everyone that my husband and I have interacted with has been very kind and thoughtful. They have gone above and beyond to help people. Our child was born here and had a great experience.

Amanda C.