Oncology & Hematology
Cancer is a feared diagnosis, but our compassionate staff at Henry County Hospital is proud to provide outstanding oncology care services for patients in Henry County and the surrounding areas. We offer individualized care to meet each patient's unique needs both physically and emotionally. Our experienced healthcare providers and nurses offer education, cancer screenings, treatment, infusion services, and emotional support.
Henry County Hospital cares for patients with cancer.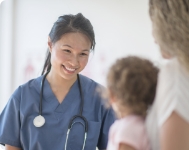 All RN's in Oncology are certified through the Oncology Nursing Society.
Treatments are conducted in a comfortable recliner with TV or music available to patients.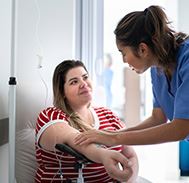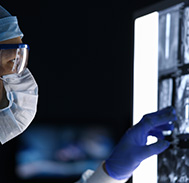 We collaborate with the best cancers-specific specialists in the nation to be your partner for life.
What Is Cancer?
Cancer is an umbrella term that describes more than 100 types of diseases. To better understand it, it helps to learn more about how your body works. Your body is made up of many kinds of cells that divide and reproduce as old cells die off. When cancer begins, it is because deformed cells multiply and spread and can invade other parts of the body and replace healthy cells with cancerous ones. These cells typically form a mass of body tissue called a tumor. Without treatment, cancer progresses and the malignant (cancerous) cells can pose a serious threat to life as they invade nearby organs and tissues or spread to distant locations throughout the body.
How Is Cancer Treated?
At Henry County Hospital, we use a variety of therapies in an attempt to shrink cancer or halt its progression. Our board-certified oncologists specialize in the treatment of cancer by employing various methods to treat cancer, from surgery to chemotherapy ("chemo") and radiation therapy. These 3 gold-standard anti-cancer treatments are used either to remove cancerous cells or stop them from spreading.
Diagnosis, Treatment, & Management of Blood Disorders
Henry County Hospital is proud to help our patients in fighting complex blood cancers and other blood diseases. Our specialists are dedicated hematologists and work with a skilled team of medical experts when collaborating with cancer centers across the nation to bring localized care in treating blood conditions. Our capable team will develop a personalized care plan including the most effective, research-backed treatments.
About Human Blood and the Field of Hematology
Blood is made of several components, including red and white cells, salts proteins, platelets, and plasma, and blood disorders and cancers are treated by physicians called hematologists. These medical specialists have extensive knowledge regarding people who inherit or develop blood disorders. Our medical team at Henry County Hospital helps patients with accurate blood condition diagnosis and treatment.
Blood Conditions We Treat
Henry County Hospital Hematology Care team treat complex blood diseases, including:
Malignant Conditions
Acute Leukemia
Hodgkin Lymphoma
Non-Hodgkin Lymphoma
Myelodysplastic syndrome
Myeloproliferative neoplasms
Multiple myeloma
Non-cancerous Conditions
Excessive bleeding
Coagulation and platelet function disorders
Arterial and venous thrombosis (blood clots)
Hypercoagulable state
Anemia and/or thrombocytopenia
Abnormal white blood cell counts
Bone marrow failure syndromes
Hemochromatosis and iron overload
Oncology and Hematology Office Hours
Monday-Thursday 8am-4pm
Clinic hours are Monday's 9am-4pm
Treatments and other services are available throughout the week. We can also make special arrangements for an after-hours or weekend appointment if it would better address the needs of the patient.
For information about our Oncology and Hematology Services at Henry County Hospital, call 419.591.3858.
General, Primary

This team at Henry County really strives together. They have a unique style of caring for their patients. If you have to be in a hospital, I highly recommend you consider Henry County Hospital. It will be my first choice from now on!

Sarai B.

Rehabilitation

I have always had kind and patient therapists. They were encouraging and glad when I showed progress. They are all very friendly and courteous.

Betty C.

General

"Amazing nurses and other staff."

Deb H.

General, Lab

My husband had outpatient testing. He wasn't feeling well and they were understanding, attentive, and overall very pleasant! They were the epitome of what patient care should look like! To say we were impressed is an understatement!

Donna S.

Internal Medicine, Riverview

My husband had outpatient testing. He wasn't feeling well and they were understanding, attentive, and overall very pleasant! They were the epitome of what patient care should look like! To say we were impressed is an understatement!

Rebecca R.