Massage Therapy
Massage can provide emotional, physiological and physical benefits for people of all ages.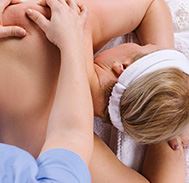 Whether you are a competitive athlete, home gardener or just feeling overwhelmed, massage therapy can help relieve the stress and tension of everyday living.
Call or email us to schedule an appointment 419.591.3818.
Benefits of Choosing HCH Massage Therapy
Massage therapy services are open and available to both patients and the public.
Appointments are required. Same day appointments may be available!
Appointments may be available morning through evening, Monday-Friday, and on designated weekends.
Loyalty program available for regularly returning customers.
To purchase a massage gift card, visit the Rehabilitation Services Department at Henry County Hospital.
Massage Services
Swedish Relaxation Massage promotes circulation, increases range of motion, and promotes a feeling of well-being. Using long strokes, kneading and friction techniques, this massage is a great choice for unwinding and rejuvenating. Pressure is adjusted to suit your needs.
Therapeutic Massage addresses acute or chronic pain symptoms resulting from injury, overuse, or postural holding patterns. Specific massages techniques will release the underlying connective tissue and muscle restrictions.
Myofascial Release applies gentle sustained pressure to the Myofascial connective tissue restrictions to eliminate pain. Our therapists have specialized training to accurately detect fascial restrictions and apply the appropriate amount of sustained pressure to facilitate the release of the fascia.
Hot Stone Massage will melt away tension as warm oils and heated stones trace your muscles to help facilitate deep relaxation.
Massage for Fibromyalgia and Arthritis helps aid in the relief of symptoms associated with these conditions. It helps relax the muscles by allowing increased blood flow, oxygen, and nutrients for the muscles to function properly.
Pregnancy Massage is special for moms-to-be that gently eases tension and increases circulation, making it great for those who are experiencing low back discomfort and edema in the legs. Moms-to-be will be pillowed and propped for comfort and safety
Infant Massage is taught to mothers, fathers, grandparents, or guardians so they may bond with their infants. Benefits include calming/restful sleep, stimulation of nervous system development, improved digestion, and boosting the immune system.
Oncology Massage provides relaxation and comfort to the mind, body, and spirit with specialized techniques for those undergoing chemotherapy, radiation or whom are in remission.
General, Primary

This is the absolute best hospital I have EVER been an inpatient at. Everyone and I do mean EVERYONE was not only above proficient at their job but there isn't a nicer bunch of employees. I admitted as a patient and discharged as a new friend to many.

Tracy A.

General, Primary

This team at Henry County really strives together. They have a unique style of caring for their patients. If you have to be in a hospital, I highly recommend you consider Henry County Hospital. It will be my first choice from now on!

Sarai B.

Rehabilitation

They do a great job.

Ernesto E.