Infusion Services
The Best Infusion and Injection Services Close to Home
Outpatient Care Services at Henry County Hospital offers infusion and injection therapy services in a healing environment monitored by certified registered nurses. Here, you'll receive the most advanced treatment specifically designed to care for your mind, body, and spirit.
Relaxing, comfortable recliner with TV, music and free WiFi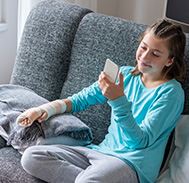 Infusion therapies administered by licensed nurses included by not limited to:
IV antibiotics
Blood products
Chemotherapy
Bone density treatments
Iron deficiency treatments
What to Expect
Each treatment can last between 30 minutes up to several hours. But your healthcare team will inform you of how long yours should take. Complimentary refreshments, snacks and/or meals delivered from our hospital's cafeteria for patients to enjoy.
Intravenous Infusions
Hydration
Iron Infusions
Administration of IV Gamma Globulin
IV Solumederol
Remicade
Reclast
Other Intravenous Infusions
Intramuscular Injections
Vitamin B12
Sandostatin
Lupron Depot
Other Intramuscular Injections
Subcutaneous Injections
Procrit, Aranesp
Neupogen, Neulasta
Zoladex
Prolia
Other Subcutaneous Injections
Indwelling Port Management
Implantable port flushes
Port access and blood draws from all types of central venous access devices
Declotting all types of central venous access devices
Miscellaneous Services
Central line dressing changes
Blood transfusions
Therapeutic phlebotomies
Infusion Clinic Hours
Tuesday-Thursday 8am-4pm. Monday and Friday by appointment only.
For more information about Henry County Hospital Outpatient Care Services, call 419.591.3858
General, Primary

This is the absolute best hospital I have EVER been an inpatient at. Everyone and I do mean EVERYONE was not only above proficient at their job but there isn't a nicer bunch of employees. I admitted as a patient and discharged as a new friend to many.

Tracy A.

General, Primary

This team at Henry County really strives together. They have a unique style of caring for their patients. If you have to be in a hospital, I highly recommend you consider Henry County Hospital. It will be my first choice from now on!

Sarai B.

Rehabilitation

They do a great job.

Ernesto E.